Reprinted from Canadian Bahá'í News Service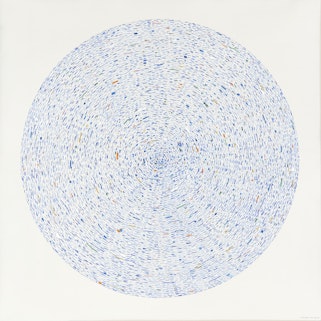 MONTREAL, QUEBEC, 25 OCTOBER 2019 - In her latest exhibition, Montreal artist Lorraine Pritchard is inspired by the bicentenary of the Birth of the Báb
The Báb is a prophet-founder of the Baha'i Faith, who established an independent religion in 1844 and foretold the imminent appearance of Baha'u'llah, who inaugurated the Baha'i Faith in 1863. On October 29th, Baha'is around the world are celebrating 200 years since the birth of the Báb in 1819.
"I was always very inspired by [the Báb's early writings], the way that the calligraphy was placed on the page, the expression in the line. I work a lot with lines, movement and rhythm. None of these things I wanted to copy or illustrate, but they were a point of departure for this project," says Pritchard.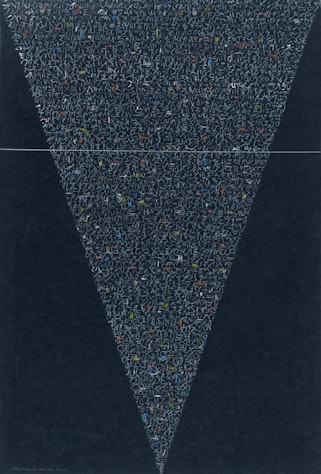 Pritchard also uses the concept of "circumambulation," a pattern of reflective walking around a sacred place. Pilgrims who approach the Shrine of the Báb in Haifa, Israel, will often circumambulate the Shrine before crossing the threshold into the interior to offer their prayers and supplications.
"I have always done abstract pieces, but these were related to this particular theme and from these ideas I had. They look like a language, but they are not, they are my way of drawing," adds Pritchard. 
Another theme of the Báb's writings is the intimate relationship between intellect and spirit, an aspect that Pritchard's work also evokes in those who view her work. "I always think that intellect and intuition are interconnected… and we don't fully know how they respond to each other but they work together."
Asked how the life of the Báb can speak to us today, Pritchard reflects that the heroism and drama of His life are hard to comprehend. "I get overwhelmed when I talk about the Bab… The dramatic story of his life and the sacrifices that were made, the revolutionary nature of it. But it can inspire us in the mystery of it all, the sacrifices that were made and courage [His followers] had.
Pritchard's exhibit is showing at the Beaux-arts des Ameriques (BADA) Gallery in Montreal from October 17 to November 16, 2019.